Thank you so much for the support! 多謝大家支持!
Thank you to all of our amazing donors, attendees, performers and sponsors who made this night an incredibly successful and auspicious night! We were able to collect $2468 USD last night for the three designated North American Chinatown charities: Cameron House in San Francisco Chinatown, Wing on Wo & Co in New York Chinatown and Mon Sheong Foundation in Toronto.
The SCL gang wishes everyone a happy and prosperous year of the Ox!
Hope to see you all back for some more fun soon!
Special thanks to our amazing performers:
翔龍 Cherng Loong Dragon Dance Team: @cherngloongliondance
Emily: @jjangbeans
PeaLeaf: @pealeaf
Victor: @loopyvic
Jade: @jadehchan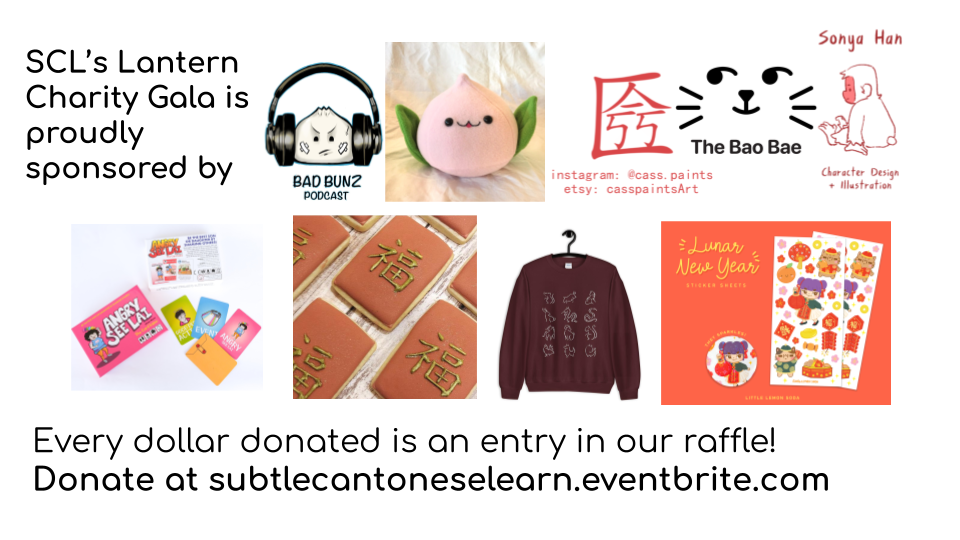 SCL's Lunar New Year Lantern Charity Gala Livestream


Read our interview on Global News Canada:
Lunar New Year Lantern Charity Gala Promotion Video
新年快樂! 恭喜發財!Happy Year of the Ox! The Subtle Cantonese Learning team wishes you prosperity and happiness in the coming year